Два слова story и storey очень похожи друг на друга и абсолютно идентичны по произношению. Эти факты могут смутить и запутать многих. Однако не стоит пугаться. Давайте разбираться!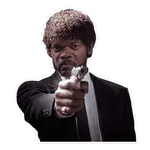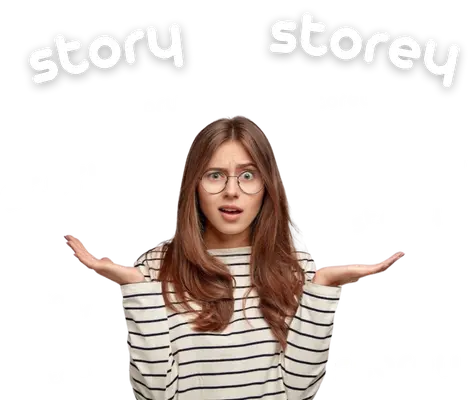 В чём разница
Story

/

Storey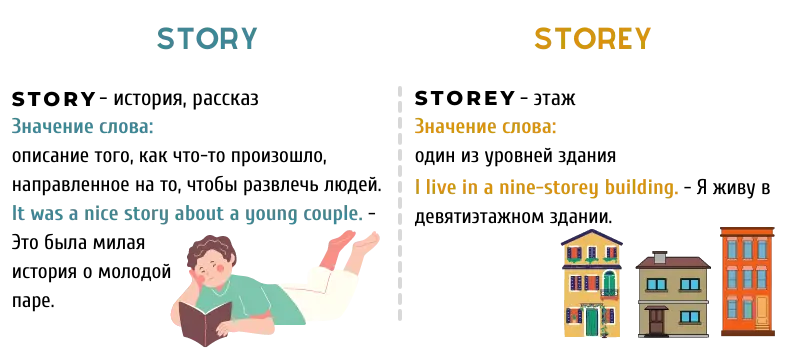 Story
— история, повествование, рассказ. Описание, правдивое или воображаемое, связанного ряда событий.
His story rings true. — Его рассказ звучит правдоподобно.
Do you have any idea what a story like this will do to me? — Ты хоть представляешь, как эта история на мне отразится?
Is that girl's story really true? — Действительно ли история этой девушки правдива?
Storey
— этаж. Уровень в здании.
It is in an old four-storey building. — Он находится в старом четырехэтажном здании.
I live on the top floor of a six storey apartment block. — Я живу на последнем этаже шестиэтажного многоквартирного дома.
A single storey garage squatted beside a roundabout. — Одноэтажный гараж примостился рядом с кольцевой развязкой.

Yeah, but everybody's a jerk. You, me, this jerk. That's my philosophy.
Понимаешь, что сказал Бендер?
Подписывайся
на Telegram-канал
«Английский по фильмам»
!
Тест на закрепление пройденного материала