Слова accept и except невероятно созвучны и похожи друг на друга, однако имеют различные значения. Давайте разберемся с этими словами и постараемся запомнить их, чтобы в дальнейшем не путать.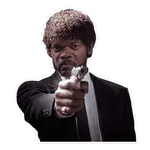 English, motherf**ker! Do you speak it?
Подписывайся
на Telegram-канал
«Английский по фильмам»
!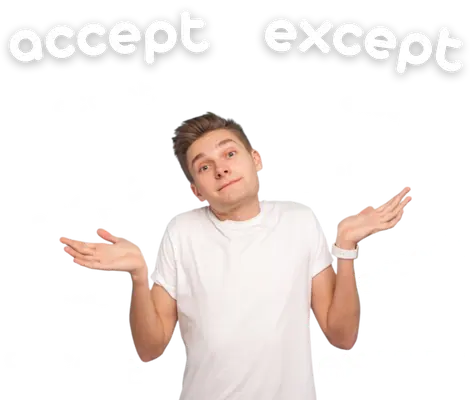 В чём разница
Accept

/

Except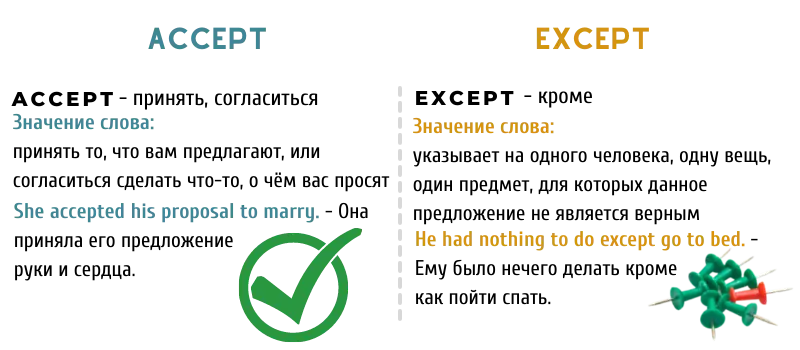 Accept
— принимать, соглашаться. Согласиться взять что-либо или сказать «да» на предложение или приглашение.
Please accept this small gift. — Прошу принять этот небольшой подарок.
I don't accept bracelets from a stranger. — Я не принимаю браслеты от незнакомцев.
I accept you as you are. — Я принимаю тебя таким, какой ты есть.
Except
— кроме. Используется, чтобы указать на какое-то исключение, на то, что выделяется на фоне остального.
Everybody in my family, basically, teaches except for me. — Все в моей семье, в основном, преподают, кроме меня.
The office is open every day except Sundays. — Офис работает ежедневно, кроме воскресенья.
Nobody here except you and me, man. — Здесь никого, кроме тебя и меня, чувак.

Yeah, but everybody's a jerk. You, me, this jerk. That's my philosophy.
Понимаешь, что сказал Бендер?
Подписывайся
на Telegram-канал
«Английский по фильмам»
!
Тест на закрепление пройденного материала