В русском языке слово «пара» может относиться как к ботинкам, рукам, котятам, так и к влюбленным или танцорам. В английском для этих целей используются слова pair и couple. Давайте выясним в чем между ними разница и в каких ситуациях употребляется то или иное слово.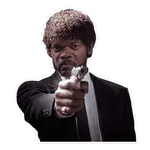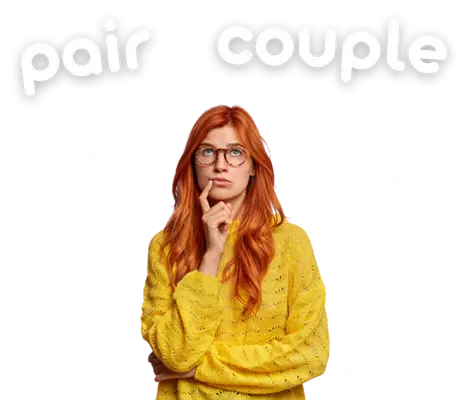 В чём разница
Pair

/

Couple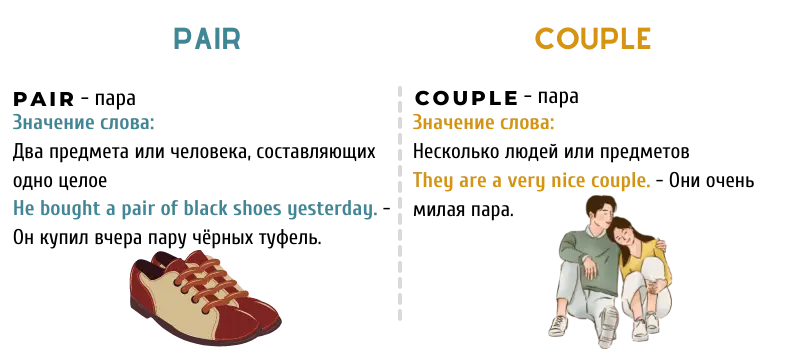 Pair
— пара. Две вещи одинакового вида и размера, которые предназначены для совместного использования, или что-то, что состоит из двух частей, соединенных вместе. Два человека, которые делают что-то вместе.
She bought a pair of shoes. — Она купила пару туфель.
You've never had a pair of pants with a crease in them. — У тебя никогда не было пары приличных брюк.
All you need is a pair of quality sneakers. — Все, что вам нужно, это пара качественных кроссовок.
Couple
— пара. Два человека, состоящие в браке или в романтических или сексуальных отношениях, или два человека, которые вместе для определенной цели. Может употребляться в значении «несколько». Например, дай мне пару гвоздей.
The young couple were holding hands. — Молодая пара держалась за руки.
So I have a couple of videos. — Итак, у меня есть несколько (пара) видео.
The couple traveled the world and settled in Europe. — Пара путешествовала по миру и поселилась в Европе.
Возможно вам будет интересно:

Yeah, but everybody's a jerk. You, me, this jerk. That's my philosophy.
Понимаешь, что сказал Бендер?
Подписывайся
на Telegram-канал
«Английский по фильмам»
!
Пройдите тест для закрепления материала