Слова bare и bear произносятся абсолютно одинаково и имеют схожее написание. Давайте выясним значение каждого из слов и разберемся с их употреблением.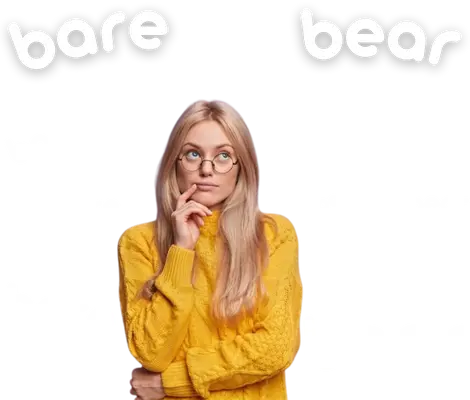 В чём разница
Bare

/

Bear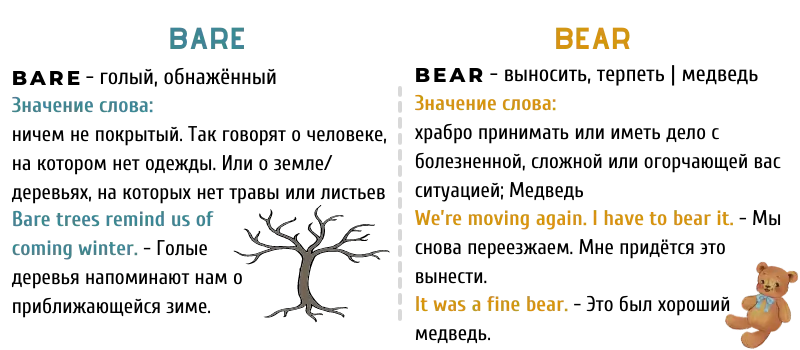 Bare
— голый, без одежды или ничем не прикрытый. Используется, чтобы сказать, что кто-то без одежды или что-то без покрова (например, земля без травы).
They built their house on bare ground. — Они построили свой дом на голой земле.
She sat and crossed bare right leg over left. — Она села и положила обнаженную правую ногу на левую.
He grasped the hot metal with his bare hands. — Он схватил горячий металл голыми руками.
Bear
— принимать, терпеть что-то неприятное. Это самое распространенное значение. Кроме того, все мы знаем, что
Bear
переводиться как медведь.
I can't bear to see her cry. — Я не выношу, когда она плачет.
But there are limits to what a man can bear. — Но существуют пределы того, что может вынести человек.
This plank will not bear your weight. — Эта доска не выдержит вашего веса.
My parents have gifted me a teddy bear for birthday. — Родители подарили мне на день рождения плюшевого мишку.