Перед вами два крайне похожих слова, к тому же они произносятся одинаково. Давайте выясним чем отличаются слова aisle и isle!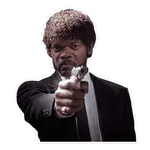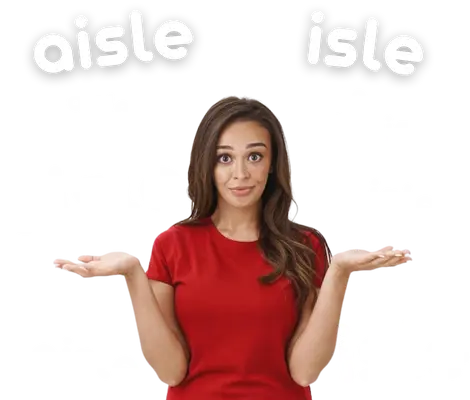 В чём разница
Aisle

/

Isle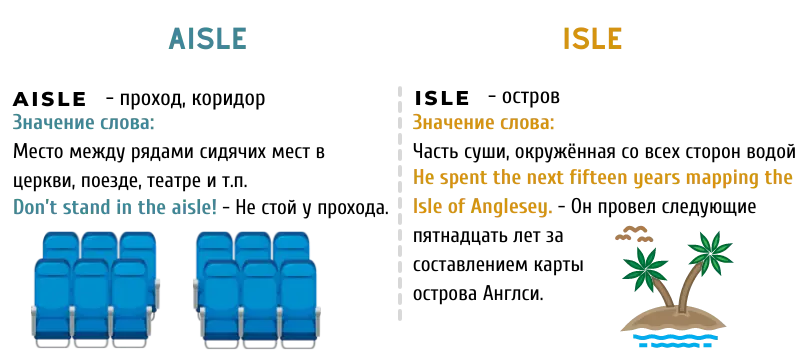 Aisle
— проход
. Длинное узкое пространство между рядами сидений в самолете, кинотеатре или др.
The bride walked down the aisle to the altar. — Невеста прошла по проходу к алтарю.
I'd like an aisle seat, please. — Я хотел бы место у прохода.
Did I get my aisle seat or my window seat? — Мне досталось место у прохода или у окна?
Isle
— остров. Небольшая часть суши, которая со всех сторон омывается водой. Isle чаще всего используется в географических названиях.
The Australian seas are rife with uninhabited isles. — Австралийские моря изобилуют необитаемыми островами.
Brother, why don't you leave the isle? — Брат, почему не Вы оставляете островок?
I think that's the Isle of Wight. — Я думаю, что это остров Уайт.

Yeah, but everybody's a jerk. You, me, this jerk. That's my philosophy.
Понимаешь, что сказал Бендер?
Подписывайся
на Telegram-канал
«Английский по фильмам»
!
Пройдите тест для закрепления материала