Слова kill и murder имеют одинаковый перевод, однако небольшая разница все-таки присутствует. Давайте разберемся в каких случаях употребляется то или иное слово.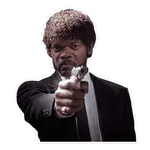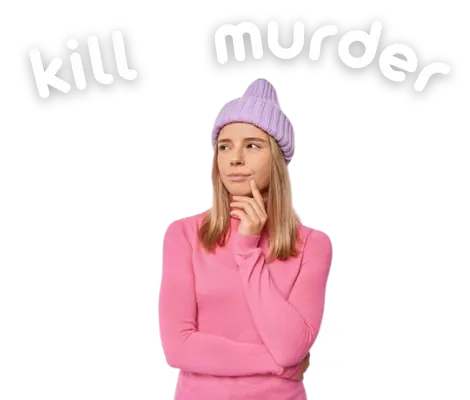 В чём разница
Kill

/

Murder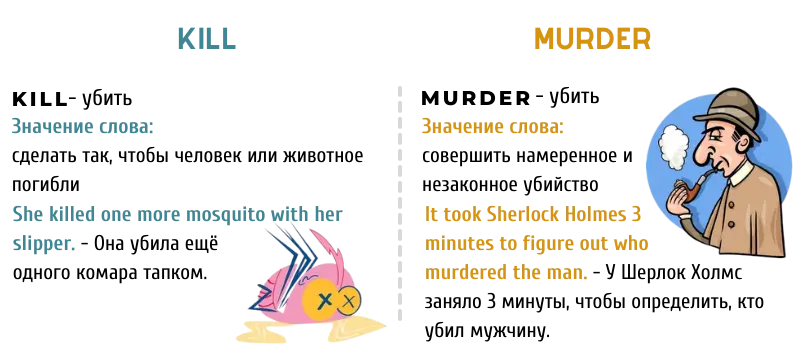 Kill
— убить. Заставить кого-то или что-то умереть. Относиться как к преднамеренному, так и случайному убийству.
Mom will kill me if I'm late. — Мама убьёт меня, если опоздаю.
Why would they want to kill us? — Зачем им нас убивать?
She thinks saw Sam kill her sister. — Она думает, что видела, как Сэм убил ее сестру.
Murder
— убить. Совершить преступление, заключающееся в умышленном убийстве человека.
The murder shook the whole town. — Убийство шокировало весь город.
Murder is much too serious a thing to make jokes about. – Убийство – слишком серьезная вещь, чтобы шутить по этому поводу.
We just want her for questioning about a murder. — Мы просто хотели вызвать её на допрос по поводу убийства.

Yeah, but everybody's a jerk. You, me, this jerk. That's my philosophy.
Понимаешь, что сказал Бендер?
Подписывайся
на Telegram-канал
«Английский по фильмам»
!
Пройдите тест для закрепления материала